Introduction to Affiliate Marketing
Affiliate marketing is a performance-based online marketing strategy where businesses (merchants) partner with individuals or other businesses (affiliates) to promote their products or services. In this arrangement, affiliates earn a commission for generating sales, leads, or any other desired action through their unique affiliate links.
Definition and Overview
At its core, affiliate marketing is a mutually beneficial relationship between merchants and affiliates. Merchants benefit from increased sales and brand exposure, while affiliates have the opportunity to earn passive income by promoting products they believe in and find valuable. This marketing model has become increasingly popular due to its cost-effectiveness and potential for generating significant returns for both parties involved.
How Affiliate Marketing Works
The process of affiliate marketing typically involves the following steps:
Merchant creates an affiliate program: Businesses set up an affiliate program where they define the commission structure, promotional materials, and tracking methods.
Affiliate joins the program: Affiliates sign up for the program and receive a unique affiliate link that tracks their referrals.
The affiliate promotes the product/service: Affiliates share the affiliate link with their audience through blog posts, social media, email marketing, or other channels.
Customer clicks on the link and makes a purchase: When a customer clicks on the affiliate link and completes the desired action (such as making a purchase), the affiliate earns a commission.
Merchant tracks and pays the affiliate: The merchant tracks the affiliate's performance and pays out commissions accordingly, usually on a monthly basis.
Benefits of Affiliate Marketing
Affiliate marketing offers several advantages for both merchants and affiliates:
For merchants:

Cost-effective marketing strategy with a high return on investment (ROI)
Access to a larger audience through affiliates' networks
Increased brand awareness and credibility

For affiliates:

Potential for passive income with minimal upfront investment
Flexibility to promote a wide range of products or services
Opportunity to build an online business based on personal interests and expertise
How to Start Affiliate Marketing
If you're looking for a way to make money online, affiliate marketing might be just the opportunity you need. This type of marketing involves promoting somebody else's products and earning a commission on any sales made through your unique referral links. But how do you get started?
Choosing a Niche
The first step in starting affiliate marketing is selecting a niche or area of focus. This should be an area that you are passionate about, knowledgeable in, or interested in learning more about. A well-defined niche helps you target a specific audience and create content that appeals to their needs and interests. Consider the following when choosing a niche:
Demand: Research potential niches to ensure there is a demand for content and products in that area.
Competition: Analyze the competition within the niche to determine if there is room for your unique voice and approach.
Affiliate programs: Investigate available affiliate programs and products within the niche to ensure there are suitable monetization opportunities.
Researching Affiliate Programs
Once you've chosen your niche, it's time to find relevant affiliate programs to partner with. Look for programs that offer products or services that align with your niche and audience's interests. When evaluating affiliate programs, consider factors such as:
Commission rates: Choose programs with competitive commission rates to maximize your earnings.
Cookie duration: Longer cookie durations increase the likelihood of earning a commission from your referrals.
Reputation: Partner with reputable companies to build trust with your audience and ensure reliable commission payments.
Support: Look for programs that provide affiliates with resources, tools, and support to help you succeed.
Building a Website or Online Presence
To promote affiliate products and reach your target audience, you'll need a platform such as a website, blog, social media account, or YouTube channel. Your chosen platform should reflect your niche, goals, and personal preferences. Here are some tips for building your online presence:
Domain and hosting: Choose a domain name that reflects your niche and invest in reliable web hosting for your website.
Website design: Create a visually appealing and user-friendly website that encourages visitors to engage with your content.
Branding: Develop a consistent brand identity across all platforms to build credibility and recognition.
Email list: Start building an email list from the beginning to nurture relationships with your audience and promote affiliate products.
Creating Quality Content
Content is the foundation of your affiliate marketing efforts, as it helps attract and engage your target audience. Focus on producing high-quality, valuable, and informative content that addresses your audience's needs and interests. Here are some content ideas for affiliate marketing:
Product reviews: Write detailed and honest reviews of affiliate products, highlighting their features, benefits, and drawbacks.
Tutorials and how-to guides: Create step-by-step tutorials or guides that demonstrate how to use or get the most out of affiliate products.
Comparison posts: Compare multiple products within your niche to help your audience make informed purchasing decisions.
Resource lists: Curate lists of useful resources, tools, or products within your niche, including relevant affiliate products.
Remember to disclose your affiliate partnerships and include affiliate links naturally within your content, prioritizing your audience's needs and trust over promoting products aggressively.
Examples of Successful Affiliate Marketers
In this section, we will explore three successful affiliate marketers who have built thriving online businesses by leveraging the power of affiliate marketing.
Case Study 1: Pat Flynn's Smart Passive Income
Website: Smart Passive Income
Pat Flynn is a renowned affiliate marketer and entrepreneur who shares his knowledge and experiences on his website, Smart Passive Income. He started his online journey in 2008 after losing his job as an architect and has since built a successful business through affiliate marketing, podcasting, and creating digital products.
Pat focuses on providing valuable content, including in-depth tutorials, case studies, and interviews with other successful entrepreneurs. His transparency and honesty have earned him a loyal audience and helped him generate significant affiliate income. In addition to promoting affiliate products, Pat also shares his monthly income reports, which detail his earnings from various sources, including affiliate marketing.
Case Study 2: Wirecutter by The New York Times
Website: Wirecutter
Wirecutter is a product review website that was acquired by The New York Times in 2016. Founded by Brian Lam, a former editor at Gizmodo, Wirecutter has grown into a popular resource for consumers seeking unbiased, in-depth reviews of various products, ranging from electronics to home appliances.
The website generates revenue primarily through affiliate marketing by partnering with retailers like Amazon and Best Buy. Wirecutter's team of expert writers and researchers conducts rigorous testing and research to provide readers with trustworthy product recommendations. The site's commitment to quality and integrity has earned it a loyal following and a reputation as a go-to source for reliable product reviews.
Image: A screenshot of the Wirecutter website or The New York Times logo with "Wirecutter" text.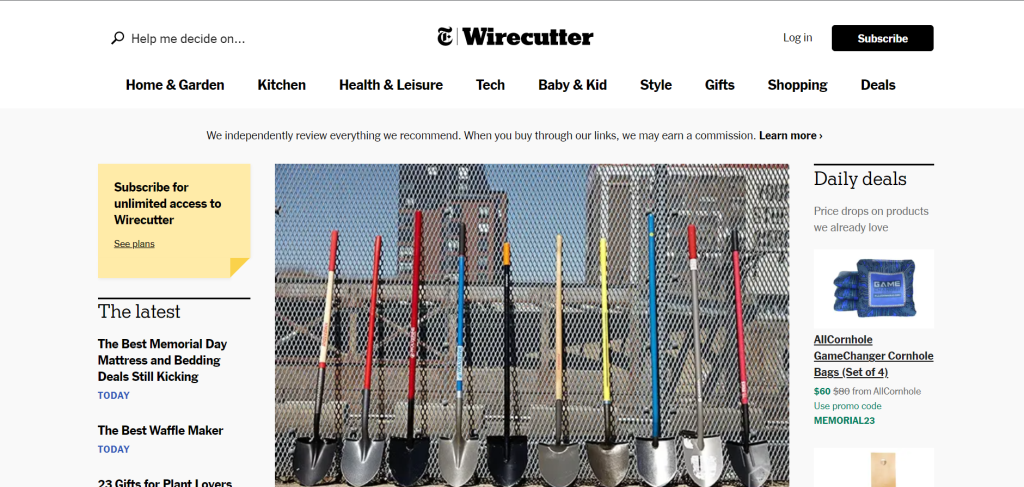 Case Study 3: NerdWallet
Website: NerdWallet
NerdWallet is a personal finance website that helps consumers make informed financial decisions by providing expert advice, tools, and product comparisons. Founded by Tim Chen in 2009, NerdWallet has grown into a leading resource for personal finance information, covering topics such as credit cards, loans, insurance, and investing.
The company generates revenue through affiliate marketing by partnering with various financial institutions and service providers. NerdWallet's team of experts creates comprehensive guides, reviews, and comparison articles that help readers find the best financial products and services for their needs. By prioritizing its users' interests and maintaining editorial independence, NerdWallet has built a strong reputation for trustworthiness and expertise in the personal finance space.
Top Affiliate Marketing Websites and Platforms
There are numerous affiliate marketing platforms and websites available for affiliates to partner with and promote products. Here, we will discuss five popular options that cater to a wide range of niches and industries.
Amazon Associates
Website: Amazon Associates
Amazon Associates is one of the largest and most well-known affiliate marketing programs globally. As an affiliate, you can promote millions of products available on Amazon's marketplace across various categories, including electronics, fashion, books, and home goods.
Amazon Associates offers competitive commission rates, which vary depending on the product category. The program also provides a wide range of promotional tools, such as banner ads, product links, and widgets. However, it's essential to be aware of Amazon's relatively short cookie duration (24 hours) and strict program guidelines.
Commission Junction (CJ)
Website: Commission Junction
Commission Junction (CJ) is a leading global affiliate marketing network that connects affiliates with top brands and advertisers. CJ offers a wide range of products and services across various industries, such as retail, travel, finance, and technology.
As an affiliate, you can join multiple advertiser programs within the CJ network, access detailed performance reports, and utilize advanced tracking tools. Commission rates and payment terms vary by the advertiser, allowing you to choose programs that best align with your niche and monetization goals.
Image: A screenshot of the Commission Junction website or the CJ logo.
ShareASale
Website: ShareASale
ShareASale is a popular affiliate marketing platform that features over 5,000 merchants across various industries, including fashion, home and garden, food and drink, and business services. The platform is known for its user-friendly interface, reliable tracking, and timely commission payments.
Affiliates can join multiple merchant programs, access a variety of promotional materials, and track their performance using real-time reporting tools. ShareASale offers competitive commission rates and flexible payment options, making it an attractive choice for affiliates across different niches.
ClickBank
Website: ClickBank
ClickBank is a global affiliate marketing platform specializing in digital products, such as ebooks, software, and online courses. With thousands of products available across various categories, ClickBank offers affiliates the opportunity to promote unique and high-converting products within their niche.
The platform is known for its high commission rates (up to 75% for some products) and extensive marketplace, making it an attractive option for affiliates looking to maximize their earnings. ClickBank also provides advanced analytics, tracking tools, and resources to help affiliates succeed.
Rakuten Advertising
Website: Rakuten Advertising
Formerly known as Rakuten LinkShare, Rakuten Advertising is a global affiliate marketing network that connects affiliates with top brands like Walmart, Best Buy, and Macy's. The platform offers a wide range of products and services across various industries, such as retail, travel, and finance.
Rakuten Advertising provides affiliates with advanced tracking tools, real-time reporting, and access to exclusive promotional offers from advertisers. The platform also offers a user-friendly interface and personalized support to help affiliates optimize their performance and earnings.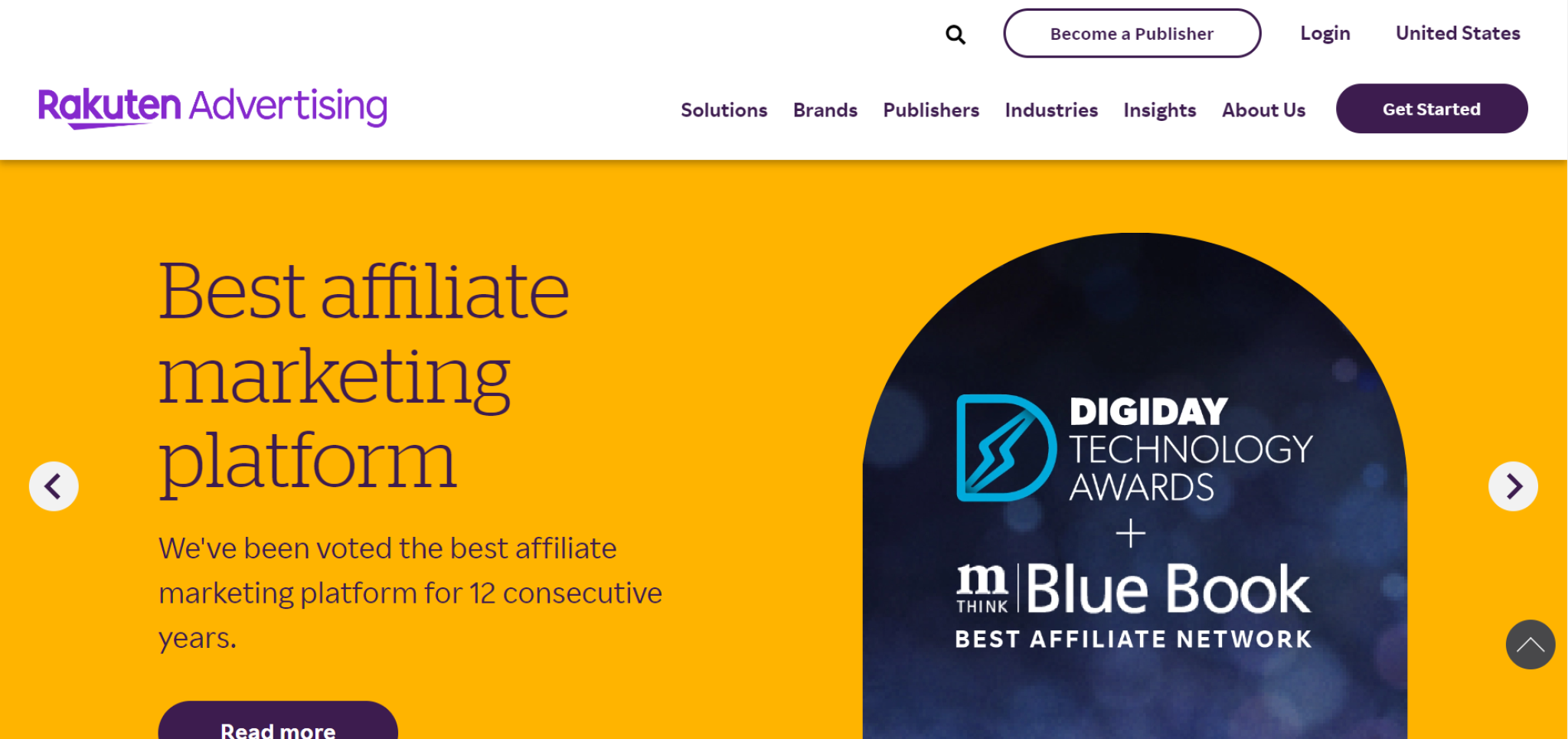 Tips and Best Practices for Affiliate Marketing Success
To maximize your success in affiliate marketing, it's essential to follow best practices and continuously refine your strategies. Here are some tips to help you build a thriving affiliate marketing business:
Building Trust with Your Audience
Establishing trust with your audience is crucial for long-term affiliate marketing success. Be transparent about your affiliate partnerships and always prioritize your audience's needs and interests over promoting products. Offer honest opinions and recommendations, and only promote products that you genuinely believe will benefit your audience.
Image: A visual representation of trust, such as a handshake or people connecting.
Promoting Products You Believe In
Only promote products and services that you have personally used, tested, or thoroughly researched. This ensures that your recommendations are genuine and helps build credibility with your audience. Avoid promoting low-quality products or those that don't align with your niche, as this can damage your reputation and relationship with your audience.
Image: A person showcasing a high-quality product or a visual representation of product research and selection.
Utilizing SEO and Social Media
Search engine optimization (SEO) and social media are powerful tools for driving targeted traffic to your affiliate marketing website or platform. Implement SEO best practices, such as keyword research, on-page optimization, and link building, to improve your content's visibility in search engine results. Utilize social media platforms like Facebook, Twitter, Pinterest, and Instagram to share your content, engage with your audience, and attract new followers.
Monitoring and Analyzing Performance Metrics
Regularly monitor and analyze your affiliate marketing performance metrics to identify areas for improvement and optimize your strategies. Track key performance indicators (KPIs) such as traffic, conversion rates, earnings per click (EPC), and average order value (AOV). Use data-driven insights to refine your content, promotional tactics, and product selection to maximize your affiliate marketing success.
Image: A visual representation of data analysis, such as a person reviewing charts and graphs related to affiliate marketing performance.
By following these best practices and continuously learning and adapting, you can build a successful and sustainable affiliate marketing business that generates passive income over time. Remember, affiliate marketing requires patience, dedication, and a commitment to providing value to your audience.
Conclusion: Affiliate Marketing as a Sustainable Online Business Model
Affiliate marketing has proven to be a sustainable and lucrative online business model for many entrepreneurs and content creators. By partnering with merchants and promoting their products or services, affiliates can earn passive income while providing valuable information and recommendations to their audience.
To succeed in affiliate marketing, it's essential to choose a niche that aligns with your passions and expertise, research and partner with reputable affiliate programs, and create high-quality, engaging content that resonates with your target audience. Building trust with your audience and promoting products you genuinely believe in are crucial factors for long-term success.
In addition, leveraging SEO and social media strategies can help drive targeted traffic to your platform, increasing the likelihood of generating affiliate commissions. Regularly monitoring and analyzing performance metrics will enable you to refine your strategies and optimize your affiliate marketing efforts.
As with any online business, patience and persistence are key to achieving success in affiliate marketing. By following best practices and continuously learning and adapting, you can build a thriving, sustainable affiliate marketing business that provides passive income and allows you to share your passion and expertise with others.